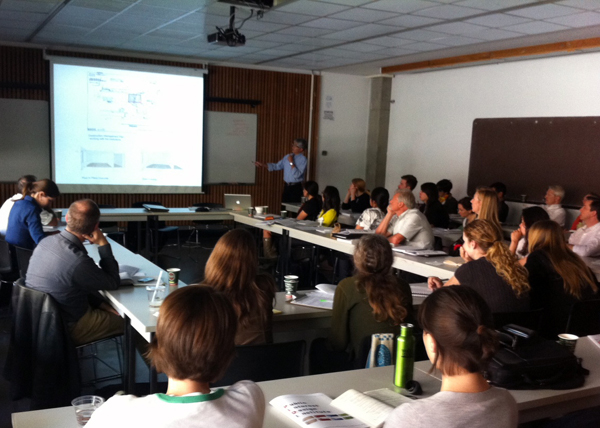 Institute Recap:
How well did we meet your expectations and provide value to you?
Please evaluate how successfully the Public Interest Design Training met your expectations for each of the following.
"5" is highly successfully?"3" is successfully?"1" is unsuccessfully
| | |
| --- | --- |
| Average Score | Learning Objective |
| 4.5—————- | Understanding public interest design and how is it re-shaping the design professions. |
| 4.0—————- | Moving beyond LEED to measure the social, economic, and environmental impact on communities. |
| 4.0—————- | Maximizing a project's positive impact on a community. |
| 4.3—————- | Using a step-by-step process of working with a community as a design partner. |
| 3.9—————- | Leveraging other partners and assets to address project challenges. |
| 3.4—————- | Identifying new fee sources |
| 3.5—————- | Finding new clients and public interest design projects. |
Comments from attendees Public Interest Design Institute -Seattle
Why did you attend this PID training?
Meet a "community of practice" (i.e. others with shared interests) and find an alternative practice to my regular Architecture practice. —Anon.
I have been following this for a while and hoped to get a sense of the "here and now" of design for the public interest. –David Smolker.
I work on a number of public projects that should be for the benefit of the larger community. Want to find ways of incorporating more community ideas into the design process. — Ida Ottesen
What was the most valuable lesson learned?
Reinforcement on seeking things out for myself –grants, projects, partners, etc.  Also, I didn't know ho much about how many grants exist in the world, that's helpful. –Anon.
That you have to look far beyond the traditional paths of architectural practice, and often make your own. –Anon.
Regaining the sense of possibility (I've been in the profession 30+ years). –Anon.
How will this training benefit the work you do?
It enables new perspective and methodologies to achieve success for the greater good. –Lisa Herriott
Yes- finding community partners. — Anon.
Inspiration! We will be applying the SEED principals to our projects in order to help guide them and give ourselves and our clients more clarity and better goals.— Stephanie Ingram
Will the training help you accomplish any new goals?
Yes, I hope to utilize the SEED process to start a thesis research project for public health. –Lisa Herriott
Yes. I am now connected to a network of professionals and best practices to help inform my future work.  SEED is an excellent framework for the PID process- enough structure to encourage success and enough flexibility to enable creativity. –Michele Hill
Suggestions for Improvement? 
More interactive sessions.  Case studies are great, but I would like to "try" the SEED methods…Breakout sessions, work in groups, problem-solving cases would be nice.–David Smolker
Teach how to approach grant funders. More on what goes into a SEED application. –Tom Steidl
FRIDAY, JUNE 15
8:00-9:00           Registration + Coffee
9:00- 9:45          Introduction to Public Interest Design + Learning Objectives
9:45-10:00         Audience Introductions
10:00-10:15       SEED + Healthcare, Steve Dombrowski
10:15-10:45       Networking Break (coffee + snacks)
10:45-12:00       CASE 1: Butaro Hospital, MASS Design, Michael Murphy
12:00-1:15         Lunch (meet together or on your own)
1:15-2:30           CASE 2: Chinatown Community Education Center, Bruner/Cott Architects and Planners,
                             Lawrence Cheng
2:30-3:00          Networking Break (coffee + snacks)
3:00-3:45           Environmental Works, Rachel Minnery
3:45-4:30           Pomegranate Center, Milenko Matanovic
4:30-5:00          Discussion
SATURDAY, JUNE 16
9:00-10:00        The SEED communication, evaluation, and certification process, Bryan Bell
10:00-10:30      Networking Break (coffee + snacks)
10:30-12:00      CASE 3: Owe'neh Bupingeh Preservation Plan Project, Atkin Olshin Schade Architects, Jamie Blosser
12:00-1:15         Lunch (meet together or on your own)
1:15-2:30           CASE 4:  Building Partnership and Capacity in Seattle's International District, University of Washington,                                                                 Jeff Hou
2:30-3:00           Networking Break (coffee + snacks)
3:00-3:45           CASE 5:  Manufactured Migrant Housing, Design Corps, Bryan Bell
3:45-5:00           Review and SEED Exam
CEU Credits: 11.5
Price:
Standard: $450
AIA and ASLA Members: $350
Student: $250
* Price does not include food or lodging.
* You must complete Paypal payment after registration in order to reserve your seat. Contact us within 24 hours of registration and payment if you need a refund for any reason.
* We reserve the right to cancel the institute up until 4 weeks before the event date if we have not met the minimum registrations required  to cover the costs of  bringing in the instructors. Should this occur, we will notify you immediately and you will be refunded in full.  The Seattle Institute has been Confirmed