This two-day course was presented on October 4-5, 2014 by Design Corps, SEED Network, Rice University School of Architecture, AIA Houston and Rice Design Alliance. The Institute provides design and planning professionals with in-depth study on methods of how design can address the critical issues faced by communities. Training in public interest design is a way of enhancing an existing design practice and learning skills to become pro-actively engaged in community-based design. The curriculum is formed around the Social Economic Environmental Design (SEED) metric, a set of standards that outlines the process and principles of this growing approach to design. This process provides a step-by-step aid for those who want to undertake public interest design. Certification in the SEED process is given.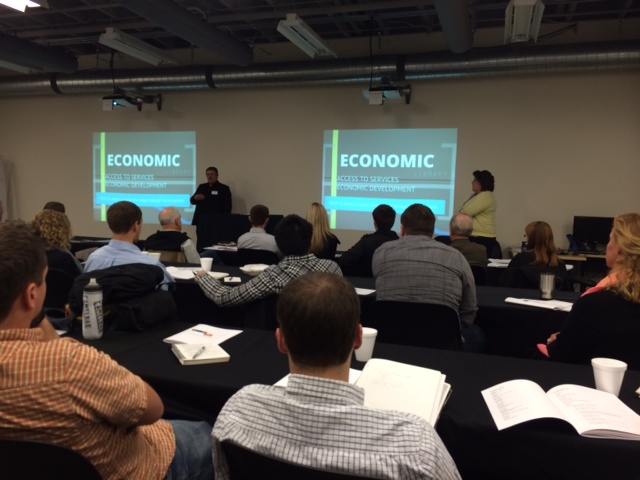 Institute Recap – Evaluation Results
How well did we meet your expectations and provide value to you?
Please evaluate how successfully the Public Interest Design Training met your expectations for each of the following.
"5" is highly successfully?"3" is successfully?"1" is unsuccessfully
Average Score        Learning Objective
| | |
| --- | --- |
| 3.9 | Pro-actively finding new clients and public interest design projects |
| 4.2 | Learning about new fee sources and structures |
| 4.5 | Using a step-by-step process of working with a community as a design partner |
| 3.8 | Leveraging other partners and assets to address project challenges |
| 4.6 | Maximizing a project's positive impact on a community |
| 4.6 | Moving beyond LEED to measure the social, economic, and environmental impact on communities |
| 4.4 | Understanding public interest design and how is it re-shaping the design professions |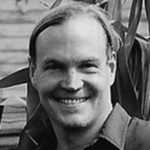 Bryan Bell: is the Academic Leader of each session, the founder of Design Corps, founder of the Public Interest Design Institute, and a co-founder of SEED. Bell has supervised the Structures for Inclusion lecture series for ten years which presents best practices in community-based design. He has published two collections of essays on the topic. Bell has lectured and taught at numerous schools including the Rural Studio with Samuel Mockbee. He has received an AIA National Honor Award in Collaborative Practice. His work has been exhibited in the Venice Biennale and the Cooper Hewitt Museum Triennial. He was a Harvard Loeb Fellow in 2010-11 and a co-recipient of the 2011 AIA Latrobe Prize which is focused on public interest design.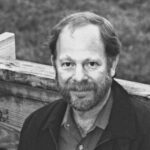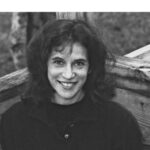 Danny Samuels (FAIA): is a Professor in Practice at the Rice School of Architecture, Director of the Rice Building Workshop, and, since 1972, a founding Partner of Taft Architects.
Nonya Grenader (FAIA): is a Professor in Practice at the Rice School of Architecture, Associate Director of the Rice Building Workshop, and principal of her own firm.
For the past eighteen years, Samuels and Grenader have led over 500 hundred students of the Rice Building Workshop (RBW) in design/build projects that focus on small, affordable houses. Their workshop has been enriched by a long collaboration with Project Row Houses (PRH), an innovative neighborhood group that has been a catalyst for transforming a Houston community through the celebration of art and African-American history and culture. Within this strong community context, RBW/PRH projects have included renovation, new construction, and neighborhood planning.
Brent Brown (AIA, LEED AP): is an architect and founder of buildingcommunity WORKSHOP in Dallas, TX, where his work has been recognized locally and nationally. Recently, the U.S. Department of Housing and Urban Development in conjunction with the AIA awarded his Congo Street Green Initiative the 2010 National AIA/HUD Secretary Award for "Community-Informed Design." He was named the Director of the newly established Dallas City Design Studio in October 2009. Brent has represented the southwest region as part of the President's Forum on Clean Energy and Public Health at the White House. The forum discussed the role of community design toward the promotion of healthier lifestyles.  He earned his Bachelor of Environmental Design and Master of Architecture from Texas A & M University where he taught design.
Ann Panopio: has a B.S. in Environmental Design from the University of Houston and a Masters of Architecture from the University of Oregon. She is back as the Associate Director for bcWORKSHOP's Houston office. Currently, she is involved with the City of Houston's Housing and Community Development Department's Disaster Recovery Round 2 program. Her work in the intersection of design and social responsibility ranges in scale from a collaboration on furniture prototypes for children with learning disabilities, affordable, multi-family housing to examining how public transit can be a catalyst to "re-stitch" a neighborhood.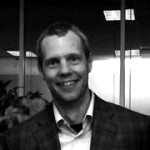 Joe Meppelink: is co-founder and principal of METALAB, an architecture and product design firm in Houston, Texas. Joe's desire is to design via constructive interplay between the often disparate camps of architecture-design-technology and construction-fabrication-manufacturing or more simply put, the head and the hands. Joe previously operated METALAB as an architectural metal fabricating shop. This shop fabricated dozens of projects in the Houston area and began steadily employing digital fabrication technologies in 1998. He is also a Partner at Janusz Design: a residential practice in Houston.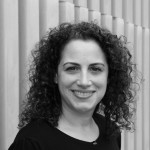 Laura Crescimano: is Principal and co-founder of SITELAB urban studio, a San Francisco-based strategic design firm focused on using research & visualization to create great places through big plans and small interventions. Laura's work investigates the social and political power of space. Her projects range from the 5M Project, a four-acre mixed-use development in San Francisco, to a 300-pixel infographic for the non-profit Destination Home. She has written and lectured on temporary urbanism, design entrepreneurism and the urban impacts of the workplace. She currently teaches on Design and Activism at UC Berkeley. Laura earned her Masters of Architecture from Harvard.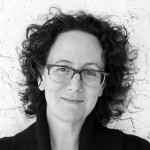 Claire Weisz: is an architect and urban designer. She is a founding principal of WXY, an award-winning practice whose work focuses on innovative approaches to public space, buildings, and cities. Recent work includes  HUD's Rebuild by Design Competition, The Brooklyn Tech Triangle a study of Brooklyn's growing tech culture, The East River Blueway, Rockaway Boardwalk's reconstruction  post Sandy and the Queensway.  Claire teaches at New York University's Wagner School of Public Service and Cornell University. A frequent speaker and panelist on resiliency and design she is a Fellow of the AIA and received a professional degree in Architecture from The University of Toronto (Hon) and her Masters in Architecture from Yale University.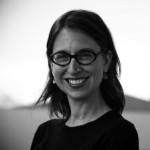 Christina Hoxie (AICP): is currently an architectural designer and urban planner at BNIM. Her primary focus is on stimulating vibrant community relationships informed by a systems-based approach. Her sustainable community planning projects range from Greening the Overflow Control Plan (KCMO, 2008-09) to the Greater Downtown Area Plan (KCMO, adopted March 2010) and assisting the Oglala Lakota people of South Dakota to win federal funding for sustainable community planning. She is also a board member of the Lawrence Percolator, which is a community-based arts non-profit organization. She feels passionately that stimulating involvement in the arts is an important part of building a sustainable, tightly-knit, engaged and thoughtful community. Christina earned her Masters of Architecture and Urban Planning from the University of Kansas.
Schedule:
Saturday, October 4th
8:00 to 9:00                        Registration and Coffee
9:00 to 9:05                        Welcome by Rice
9:05 to 10:00                       Bryan Bell, Context of Public Interest Design
10:00 to 10:15                      Coffee
10:15 to 11:45                      Case Study 1: BNIM
11:45 to 1:00                       Lunch (on your own)
1:00 to 2:30                        Case Study 2: Laura Crescimano
2:30 to 3:00                        Coffee
3:00 to 4:30                        Case Study 3: Nonya Grenader and Danny Samuels
4:30 to 5:00                        General Discussion and Questions
Sunday, October 5th
8:30 to 9:00                        Coffee
9:00 to 10:00                      Bryan Bell, SEED
10:00 to 10:15                    Coffee
10:15 to 11:45                    Case Study 4: Joe Meppelink
11:45 to 1:00                       Lunch (on your own)
1:00 to 2:30                        Case Study 5: Claire Weisz
2:30 to 4:00                        Case Study 6: bcWORKSHOP
4:00 to 5:00                        General Discussion, Review and SEED certification exam