Harvard University Graduate School of Design, Cambridge, Massachusetts
This two-day course July 28-July 29, 2014 was presented by Design Corps, SEED Network and the Graduate School of Design Harvard University Executive Education. The Institute will provide design and planning professionals with in-depth study on methods of how design can address the critical issues faced by communities. Training in public interest design is a way of enhancing an existing design practice and learning skills to become pro-actively engaged in community-based design. The curriculum is formed around the Social Economic Environmental Design (SEED) metric, a set of standards that outlines the process and principles of this growing approach to design. This process provides a step-by-step aid for those who want to undertake public interest design. Certification in the SEED process will be given.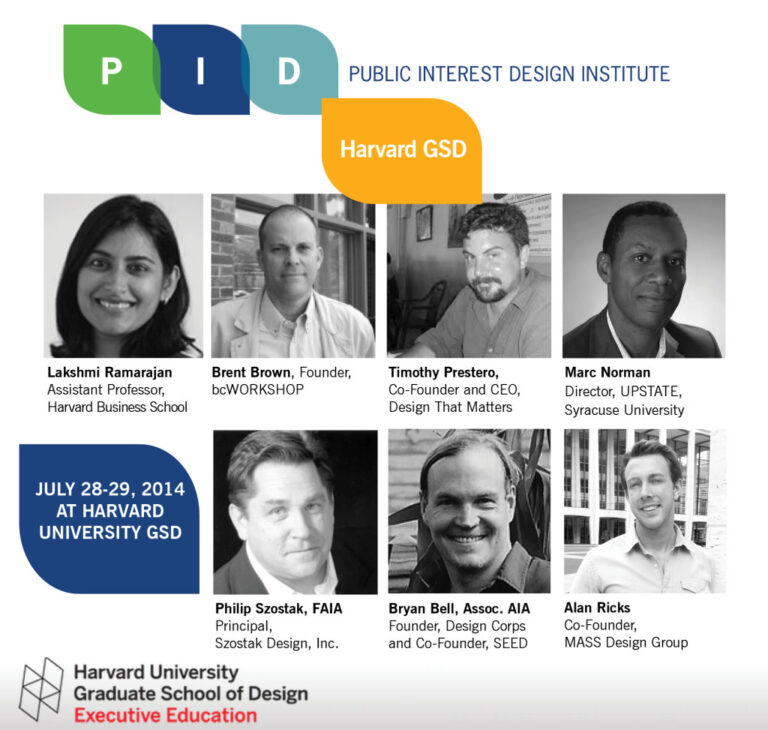 Institute Recap – Evaluation Results
How well did we meet your expectations and provide value to you?
Please evaluate how successfully the Public Interest Design Training met your expectations for each of the following.
"5" is highly successfully?"3" is successfully?"1" is unsuccessfully
  Average Score     Learning Objective
| | |
| --- | --- |
| 5 | Understanding public interest design and how is it re-shaping the design professions |
| 4.4 | Maximizing a project's positive impact on a community |
| 4.4 | Leveraging other partners and assets to address project challenges |
| 4.8 | Moving beyond LEED to measure the social, economic, and environmental impact on communities |
| 4.6 | Using a step-by-step process of working with a community as a design partner |
| 4.6 | Learning about new fee sources and structures |
| 4.4 | Finding new clients and public interest design projects |