Cincinnati, OH
November 9-10, 2012
This two-day course will provide architecture and other design professionals in public interest design with in-depth study on methods of how design can address the critical issues faced by communities. Training in public interest design is a way of enhancing an existing design practice and learning skills to become pro-actively engaged in community-based design. The curriculum is formed around the Social Economic Environmental Design (SEED) metric, a set of standards that outlines the process and principles of this growing approach to design. This process provides a step-by-step aid for those who want to undertake public interest design. Certification in the SEED process will be given.
Location:
UC Community Design Center (also known as the Turner Center and the Niehoff Urban Studio) –
2728 (Short) Vine Street
Corryville
Cincinnati, Ohio 45219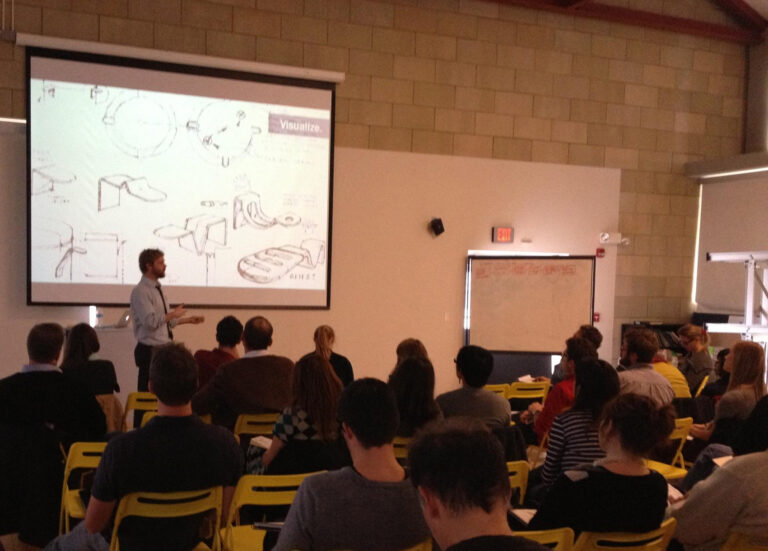 Institute Recap:
How well did we meet your expectations and provide value to you?
Please evaluate how successfully the Public Interest Design Training met your expectations for each of the following.
"5" is highly successfully?"3" is successfully?"1" is unsuccessfully
| | |
| --- | --- |
| Average Score | Learning Objective |
| 4.7—————-  | Understanding public interest design and how is it re-shaping the design professions. |
|  4.7—————- | Moving beyond LEED to measure the social, economic, and environmental impact on communities. |
| 4.6—————- | Maximizing a project's positive impact on a community. |
| 4.4—————- | Using a step-by-step process of working with a community as a design partner. |
| 4.3—————-  | Leveraging other partners and assets to address project challenges. |
| 3.8—————- | Finding new clients and public interest design projects. |
| 3.5—————- | Identifying new fee sources |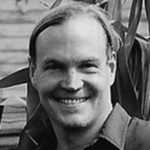 Bryan Bell, The Academic Leader of each session is Bryan Bell, the founder of Design Corps, founder of the Public Interest Design Institute, and a co-founder of SEED. Bell has supervised the Structures for Inclusion lecture series for ten years which presents best practices in community-based design. He has published two collections of essays on the topic. Bell has lectured and taught at numerous schools including the Rural Studio with Samuel Mockbee. He has received an AIA National Honor Award in Collaborative Practice. His work has been exhibited in the Venice Biennale and the Cooper Hewitt Museum Triennial. He was a Harvard Loeb Fellow in 2010-11 and a co-recipient of the 2011 AIA Latrobe Prize which is focused on public interest design. Other speakers will be national leaders of this emerging field.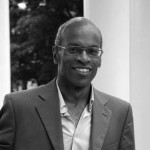 Maurice Cox is an urban designer and the Director of the Tulane City Center. Prior to directing the Tulane City Center, he was an educator at the University of Virginia, School of Architecture and former mayor of Charlottesville, Virginia. He most recently served as Director of Design for the National Endowment for the Arts where he presided over the largest expansion of direct grants to the design fields. Cox served as a Charlottesville City Councilor for six years before becoming the mayor of that city, from 2002-2004. His experience merging architecture, politics and design education led to his being named one of "20 Masters of Design" in 2004 by Fast Company Business Magazine. He is also a founding partner of RBGC Architecture, Research and Urbanism (1996-2006). Their design for a New Rural Village in Bayview, Virginia received numerous national design awards as well as being featured on CBS's "60 Minutes" and in the documentary film "This Black Soil". A recipient of the 2009 Edmund Bacon Prize, the Harvard University Graduate School of Design 2004-05 Loeb Fellowship and the 2006 John Hejduk Award for Architecture, Cox received his architectural education from the Cooper Union School of Architecture.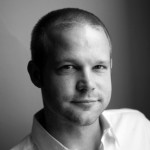 Ramsey Ford is the Co-founder and Design Director of Design Impact. Ramsey's experience as a leader in social innovation is rooted in his background of design, entrepreneurship, and product development. In his 10+ years working as a design consultant, he has helped several Fortune 500 companies develop and successfully market innovative and category transforming products. As a serial entrepreneur, he has developed three successful service and product-based businesses and is listed on several patents. Most recently, Ramsey has invested his efforts in co-founding Design Impact, a social venture that connects design with low-income communities in India. An award winning designer for both his for- and non-profit projects, Ramsey has worked to further the conversation on innovative design in the social sector through numerous workshops, published articles, and speaking engagements. He received an undergraduate degree in Industrial Design from the University of Cincinnati in 2003 and a Master's of Design from the same in 2009.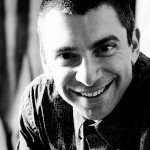 Dan Pitera is the Executive Director of the Detroit Collaborative Design Center at the University of Detroit Mercy School of Architecture. With the view that "design" is an essential force in establishing human relations, the Design Center is dedicated to fostering university and community partnerships that create inspired and sustainable neighborhoods and spaces for all people. The Design Center provides not only design services but also empowers residents to facilitate their own process of urban regeneration. Dan was a 2004-2005 Loeb Fellow at Harvard University. He was a finalist for both the 2008-2009 Rafael Vinoly Architects Grants in Architecture and the 2006-2007 James Stirling Memorial Lectures on the City. Under his direction since 2000, the Design Center was included in the US Pavilion of the 2008 Venice Biennale in Architecture and recently was awarded the 2009 Rudy Bruner Award for Urban Design Excellence for the St.Joseph Rebuild Center in New Orleans. The Design Center was the recipient of the NCARB Prize in 2002 and 2009 and was included in the international exhibit/conference ArchiLab in 2001 and 2004 in Orleans, France. The Design Center has also been the awarded the 2002 Dedalo Minosse International Prize. In 1998, Dan was the Hyde Chair of Excellence at the University of Nebraska. He has lectured and taught extensively throughout the North America, South America, and Europe.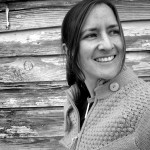 Emilie Taylor, as Design Build Manager at the Tulane City Center, works to coordinate the people, designs, and materials of the TCC's built projects. Emilie's recent community design build studio projects include the Storypod, and Project Ish at Hagar's House. The current design build project, a 4 acre youth farm known as Grow Dat, is the City Center's most ambitious project yet. Emilie is a part of the founding team that established the URBANbuild program at Tulane University and was the project manager for the first four houses. Emilie's education includes a technical building background at the University of Southern Mississippi followed by a Masters Degree in Architecture at Tulane. She is actively involved in university design|build and advocates for the engagement of such programs with the local community. Emilie's creative practice includes a documentary film on self taught builders and exploring the intersection between formal and informal architectural practice.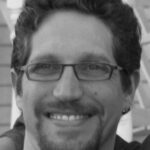 Michael Zaretsky is an Associate Professor in the School of Architecture and Interior Design (SAID) in the College of Design, Architecture, Art and Planning (DAAP) at the University of Cincinnati. He is a licensed Architect, a LEED Accredited Professional and a consultant on sustainable and humanitarian design. His research is focused around culturally, economically, technologically and environmentally responsive design for communities in need. His published work includes the book Precedents in Zero-Energy Design: Architecture and Passive Design in the 2007 Solar Decathlon (Routledge Press, 2009) and he is co-editor (with Dr. Adrian Parr) of New Directions in Sustainable Design (Routledge Press, 2010). In addition, he has had several articles published in architectural journals and presented at conferences around the world on Sustainability, Humanitarian Design and Appropriate Technologies. Michael works with the non-profit organization Village Life Outreach Project where he is the director of the Roche Health Center Design Committee, a group that has been developing a zero-energy health center in rural Tanzania. Following extensive research with the local community and within the University of Cincinnati, the Roche Health Center will be the first-ever permanent health care facility in this region and will provide health care to approximately 20,000 villagers. The building design and construction provides a reproducible, low-cost, durable structure made of all local materials and techniques.
Schedule:
Friday, November 9
8:00 to 9:00        Coffee and Registration9:00 to 9:30        Bryan Bell: Introduction to Public Interest Design + Historic context9:30 to 10:00      Bryan Bell: Latrobe research- Strategies and Examples10:00 to 10:30    Coffee break
10:30 to 12:00    Maurice Cox: Bayview Project
12:00 to 1:15       Lunch (on your own)
1:15 to 2:45         Emilie Taylor: Grow Dat Youth Farm
2:45 to 3:00         Coffee Break
3:00 to 4:30         Michael Zaretsky: Roche Health Center
4:30 to 5:00         Discussion
Saturday, November 10
9:00 to 10:15       Bryan Bell and Maurice Cox: SEED Training10:15 to 10:30     Coffee Break10:30 to 12:00     Ramsey Ford: Leveraging the gaps between cultures, sectors, and skill sets:12:00 to 1:15        Lunch (on your own)
1:15 to 2:45          Dan Pitera: Detroit Works
2:45 to 3:30          Bryan Bell: Manufactured Migrant Housing
3:30 to 3:45          Coffee Break
3:45 to 5:00          Discussion, Review and SEED certification exam
Price:
Standard: $450
AIA Members: $350
Student: $250
*Earlybird discount of $100 until 4 weeks before the event, October 10th, 2012
* Price does not include food or lodging.
* You must complete Paypal payment after registration in order to reserve your seat. Contact us within 24 hours of registration and payment if you need a refund for any reason.
* This institute has been officially confirmed.